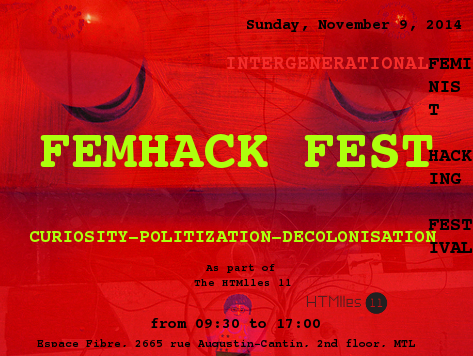 Organized by FemHack during The HTMlles 11 festival Sunday, 9 November 2014 from 09:30 to 17:00 (GMT) @ Espace Fibre, 2665 rue Augustin-Cantin, 2nd floor Montreal
We are excited to invite you to our bi-annual hacking meeting FemHackFest for a day of hacking and discussions around hacker practices and politics.
With the help of StudioXX and Espace Fibre, this event is made possible and is now happening on Sunday, November 9, 2014. Here is the approximate agenda of the Day:
09h30-10h00 - Coffee / Welcoming
10h00-10H30 - Introduction
10h30-11h15 - Presentation : From Hackerspaces to Mencaves: Gendered interactions at Foulab (45 min, Alex M)
10h30-11h30 - Workshop : Solar Panel (1h, Valerie)
11h15-11h30 - Pause café
11h30-13h00 - Workshop : Peekaboo: a first look at super encrypted email and a super open Github (1h30, Maya)
11h30-12h15 - Presentation/Discussion : Reconstituting making and hacking practices (45 min, Ellen F)
12h15-12h45 - Discussion : 30 min - Feminist Hacker Practices / hackerspaces
13h00-14h00 - PotLock Lunch
14h00-16h15 - Workshop : Free the Android (2h30, Steffie)
14h00-14h45 - Presentation : Politics of the Womb: Hacking Motherhood and Childbirth (45 min, Ana)
14h45-15h00 - Pause café
15h00-15h45 - Presentation : #GamerGate (45 min, Louis)
15h45-16h15 - Discussion : 30 min - Sexisme, Racisme & Autres Types d'oppression dans le Monde Hacker et en ligne
16h15-17h00 - Finale conclusion
17h00-19h00 - 5@7
19h00-21h00 -Cleaning !
Our hacking day is free of charge, though also low- budget -- so please consider your contribution, whether as a presenter or a participant, as very valuable and important! Lunch is pot-luck type, bring a drink and/or a meal of your own to share with 40 other participants! We will supply the coffee and tea, as well as a delicious snack in the morning.
NB! The times before and after lunch are divided between presentations/discussions and hands-on workshops. It will be a difficult choice, but at the same time will allow to interact in smaller groups and respond to the diversified interests of more participants.
FemHack is an autonomous group from Montreal whose mission is to create an empowering and inspiring environment for politicized feminist and queer hackers. Triggered by Do-It-Together practices, learning by doing and curiosity about how things are made, believing in the freedom of technology, privacy, openness and sharing of common goods, FemHack identifies with the most avant-gardist elements of hacker ethics. We take an intersectional feminist perspective to what we do and think, which means that we hack patriarchy, capitalism and other systems of oppression. FemHackFest takes an intersectional and intergenerational feminist posture where learning from peers of all genders and ages are at its root. This year, we want to stress on the intergenerational aspect of feminist hacking. Intergenerational aspects include, but are not limited to: * technology and hacking throughout the different generations and * practices of diversion and reappropriation * common misconseptions of age, youth and aging in queer, feminist, geek and hacker communities * uniting different generations around technology and hacking practices.
The timeline for the FemHackFest is the following:
Please register for the event (it's free!) on : [http://www.eventbrite.ca/e/femhackfest-2014-tickets-13244465553]
To be part of the low traffic diffusion list send an email to: femhackfest2014-subscribe@lists.riseup.net
If you are not planning to participate and the event does not interest you, feel free to unsubscribe by sending an email to femhackfest2014-unsubscribe@lists.riseup.net
Child-care available upon request (pls do it in advance, writing the number of children, for AM or PM or both). Take note that it will be charged 5$ for half day (10$ for a whole day) -- we have to pay the baby-sitters and feed them, too. If your children are big enough to attend, you don't need to pay for a baby sitter but pls register them as participants. Consider bringing enough food and know that you are responsible for your child.
To visit our wiki go to : http://foufem.wiki.orangeseeds.org/